Under Construction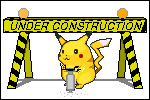 You may have noticed that GriffinTechnology.com is currently unavailable. Don't worry, we planned for this.
We are currently updating our site to better serve you. The new bells and whistles will be lovely, but for the next short time the site will be unavailable. You can still reach us on Facebook, Twitter and by contacting our Customer Service department directly.
We had a hard time trying to decide which 1990's Geocities animated GIF to use for this post. What do you think of the one I chose?